Mr. Bradford's 4th Grade Blog-March 8, 2019
We will celebrate St. Patrick's Day on March 15 with an Irish Dancing assembly. It is also a casual green dress day.
Report cards will be going home on March 15. Please sign and return the envelope. The report card is yours to keep.
Reading
Book Report: . I appreciate your help in keeping your child on track with their Biography reading. A reminder that March 13th is the deadline and when we begin working on the report in class. I gave them a pre-write/rough draft to work on while they are reading the book. The most important information to have down will be the time line. We will edit and work on the remainder of the report in class.
Last week we began our big Titanic unit. We began with an informational text to gain background information. We watched a few videos and movie clips to get a sense of the historical time and the excitement of the Titanic, as well as the failures and new laws past to avoid this kind of tragedy again. This week students are reading I Survived the Sinking of the Titanic, 1912. They will work on vocabulary and comprehension throughout. Once completed we will move on to some writing pieces and a study of the discovery of the Titanic and Robert Ballard. A great reading, writing, science and social studies tie throughout!
Spelling: Journey's lesson 19: Suffixes -ful, -less, -ness, -ment
Science
Speaking of the green, we had a first breakthrough yesterday, a seed sprouting. The real question is d do we really need sunlight for things to grow? This answer along with many others will come out in the following weeks. We will also start to look at what role states play in plants as the students get their Social Studies state.
Social Studies
We will continue our exploration of the Southwest Region. Climate, resources, crops/vegetation as well as landmarks are all things we will be talking about. The Time for Kids last week focused on the Grand Canyon. It was a great springboard into a discussion about the region. I also shared some photos from our family vacation to the Grand Canyon. Apologies if your kids are now bugging you to want to vacation there! But I do highly recommend it! Study guides for the Southwest Region will be coming home with the students on Tuesday. The plan is to have the quiz on Friday, 3/15. And because we are all a little tired from losing an hour of sleep over the weekend, our Daily Geography will focus on Time Zones.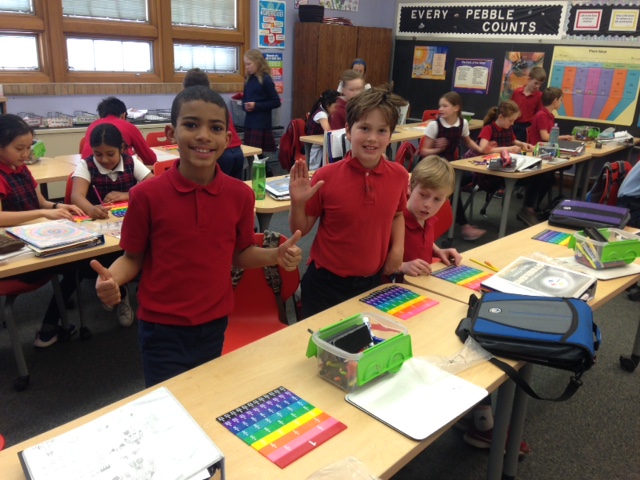 Enjoying some fraction time!
Math
This week we will continue to explore fractions. We will be adding and subtracting fractions with unlike denominators. We will then learn how to change Improper Fractions to Mixed Numbers and vice versa.
Language Arts/Writing
Adverbs - Adveb name using all three. names.

Religion
.Thank you for your help in getting students here early to preform their acts of kindness the crossing guards really appreciate it.
As a part of our Lenten journey, we are listening daily to Dynamic Catholic, interesting each day thus far has talked about happiness. Kind of a curious take on Lent
https://dynamiccatholic.com/best-lent-ever
The Last Great Race starts on Monday. We will start picking mushers and following the teams as they get started. Check it out. www.Iditarod.com